Squeeze plenty of juice from apples, limes, lemons, oranges, and so many other fruits!
Introducing the perfect sized stainless steel press for your needs! Suitable for apples, oranges, lemons, limes and berries. Perfect for any kitchen or bar! Place the fruit in the perforated container and press the handle to release the juice from the juicer.
This juicer adds efficiency to the juicing process, resulting in superior leverage designed to maximize juice production. Suitable for apples, oranges, lemons, limes, etc. The tool compresses them all for maximum effect. An essential tool for any kitchen or bar, perfect for salads, fish, drinks and other culinary needs.
Why do I need to drink freshly squeezed juice?
Freshly squeezed juice is very nutritious. Freshly squeezed juice is not only refreshing and tasty, but also provides the body with natural compounds essential for good health: fructose, enzymes, minerals, organic acids, carotenoids, proteins, vitamins, etc.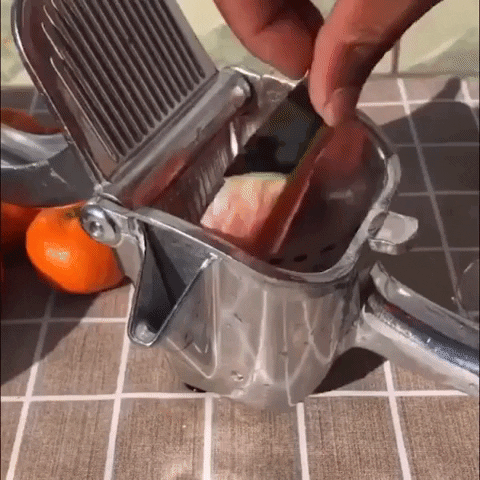 Features
Easy to use: The V-shaped juice outlet makes it easy to pour juice into a glass or container. In addition, the soft handle offers a comfortable and stable grip that is easy to grasp and squeeze. DURABLE AND SAFE: The juicer is made of high-quality stainless steel and is chrome-plated and polished. It is corrosion resistant and insensitive to any liquid, which prevents bacterial growth. You never have to worry about breakage or cleaning.
SPECIFICATIONS:
Material: Aluminum alloy Silver color Product Size: 22*10*11.5 cm Product Weight: 450g Package Includes:1 stainless steel fresh juice extractor.